Eppin Pharma: An Emerging Pharmaceutical Company
In 1960, the US Food and Drugs Adminstration (FDA) approved the birth control pill, a revolutionary invention that enabled women to control their fertility, and which many view as hugely upending cultural norms. However more than 50 years on, women are still the ones risking the well-documented side effects of oral contraceptive use in order to avoid unwanted pregnancies.
Where, then, is the contraceptive prescription for men?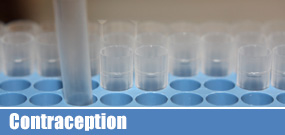 The male contraceptive market is currently limited to condoms and vasectomies and users often find dissatisfaction in each option. Eppin Pharma anticipates providing an additional option for both men and women who are unsatisfied with their current means of contraception with the availability of an oral, non-hormonal male contraceptive that can be taken as needed and has no material side effects. Eppin Pharma hopes to fill an unmet need, as well as expand into global markets where family planning is not a just a question of convenience, but a necessity.